This is a great cheese sauce recipe! The cumin, garlic powder, and onion powder make all the difference. I used a pound of Velveeta and it was awesome, my husband says its better than the restaurant!  So good, exactly like the sauce at my favorite Mexican restaurant! I put this over burritos and make Mexican rice for a side. A great meal that I don't need to go out for.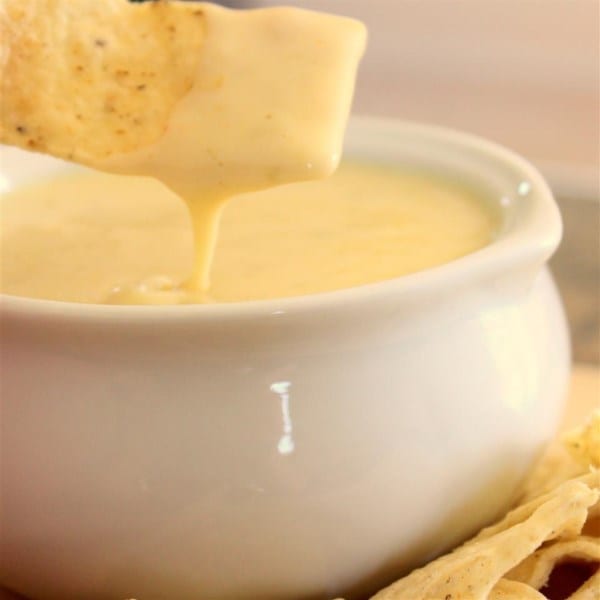 This dip is similar to white cheese sauces served in many Mexican restaurants. The amount of heat can be adjusted by adding your favorite chili pepper or crushed cayenne pepper to taste. As is, it is kid-friendly, quick, and delicious! It can be used as a dip for tortilla chips or a sauce for many Mexican dishes.
Mexican Restaurant Style White Cheese (Queso) Dip, To Make this Recipe You'Il Need the following ingredients:
Servings: 8 | Prep 5 mins |  Cook 10 mins | Ready In 15 mins.
Ingredients:
1 pound white, deli-sliced American cheese
⅔ cup of milk or half-and-half
3-4 tablespoons of canned, chopped green chiles or jalepenos
1 teaspoon cumin
1 teaspoon chipotle powder (optional)
How to make it :
Directions:
If using a slow cooker, turn on to the lowest setting. Dump everything in, heat and stir until thickened.
If using a double boiler, heat the milk, chopped chiles and spices, then gradually add in the American cheese, 1-2 slices at a time, stirring until fully melted and incorporated together.
Nutrition Info:
Per Serving: 233 calories; 19.9 g fat; 5.3 g carbohydrates; 13 g protein; 55 mg cholesterol; 1207 mg sodium.